Things to Do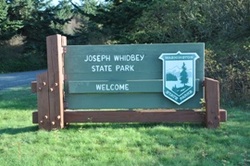 Joseph Whidbey State Park
is a 112-acre day-use park with 3,100 feet of saltwater shoreline on the Strait of Juan de Fuca in northern Puget Sound. Join friends or family here for a picnic or a flat, easy hike. The views are magnificent and the wildlife is everywhere. Joseph Whidbey State Park is located just one mile north of
Luna Shores
, and you can walk or take your car - just don't forget your
Discover Pass
.
---

Gallery Golf Course
is Whidbey Island's premiere 18-hole golf course and is open to the public. An 18-hole, award winning course with spectacular views of the Olympic Mountains. The course overlooks the Strait of Juan de Fuca and Vancouver Island. Tee time reservations are available every day, and you can also make your reservations
online
. Gallery Golf Course is just 2 miles north of
Luna Shores
.
---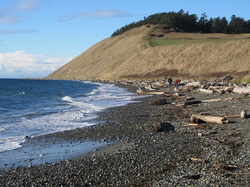 Ebey's Landing National Historical Reserve
beach and bluff is a unique place where history and natural resources come together to create a landscape of unparalleled beauty and richness. The Reserve's scenery is magnificent - dramtic bluffs rise from the waters of Penn Cove and the Strait of Juan de Fuca to dense forests and pastoral prairies while lakes and lagoons mark the rocky shores. But Central Whidbey is more than just a pretty place - it is a working landscape that reflects man's relationship with the land over a period of thousands of years. The result is a cultural landscape - a place that reflects the history of human interaction with the land, which tells the story of the people who have lived here - the Native People who first used the prairies and forests and the 19th century settlers whose houses, stores and farms are still being used today. Ebey's Landing is 9 miles from Luna Shores.
---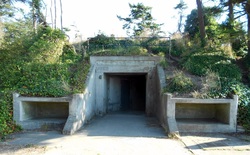 Fort Ebey State Park
, a 645-acre camping park on Whidbey Island, was originally built as a coastal defense fort in World War II. Concrete platforms mark the gun locations. Enjoy panoramic views of the Puget Sound shoreline, the Olympic Mountains and sunsets. The park features paragliding, surfing and gun batteries to explore. Eagles may be viewed at Lake Pondilla. The park has three miles of saltwater shoreline on the Strait of Juan de Fuca, a freshwater lake for fishing, and miles of hiking and biking trails. Fort Ebey is just 6 miles south of Luna Shores.
---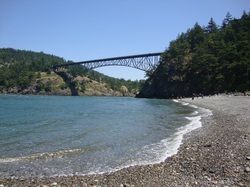 Deception Pass State Park
i
s a 4,134-acre marine and camping park with 77,000-feet of saltwater shoreline, and 33,900-feet of freshwater shoreline on three lakes on beautiful Whidbey Island. Rugged cliffs drop to meet the turbulent waters of Deception Pass. The park is known for its breath-taking views, old-growth forests, and abundant wildlife. Deception Pass is just 12 miles north of Luna Shores.
---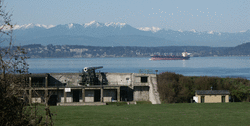 Fort Casey State Park
is is a 467-acre marine camping park with a lighthouse and sweeping views of Admiralty Inlet and the Strait of Juan de Fuca. The park is the site of Admiralty Head Lighthouse. A coast artillery post features two 10-inch and two 3-inch historic guns on display. The park features 10,810-feet of saltwater shoreline on Puget Sound (Admiralty Inlet), and includes Keystone Spit, a two-mile stretch of land separating Admiralty Inlet and Crocket Lake. Fort Casey is only 13 miles south of
Luna Shores
.
---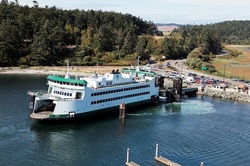 Take a ride on a
ferry from Coupeville to Port Townsend
and visit the northeastern tip of the Olympic Peninsula.
With historic roots dating back to 1792, Port Townsend is one of the finest examples of a Victorian-era seaport. Located at the northeast tip of the Olympic Peninsula, this city is known for its natural scenery and the remaining Victorian buildings dating back to the 19th Century. Explore the many landmarks the city has to offer, including the John Quincy Adams House, the Jefferson County Courthouse,and the remarkable Good Templars Hall. The Coupeville ferry is 13 miles from Luna Shores, and the ferry ride is only 30 minutes.
---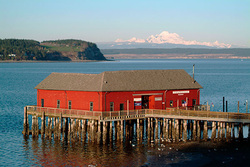 The City of Coupeville
is a Mecca for artists, who find inspiration in the shorelines, forests, prairies and waters of central Whidbey Island, as well as in the structures and spirit of the town of Coupeville. Many are attracted to hone their talents at the
Pacific Northwest Art School
. Some settle on Whidbey Island to assimilate the aura. Their studios and galleries offer literal and figurative representations of the life and landscape of Coupeville, Washington, executed as paintings, photographs, encaustics, pottery, baskets, jewelry, woodcarving and more.
Food artistry
is manifested in local farms and dining establishments that showcase the island's bounty. The coffee and ice cream shops, hot dog stand, cafes and restaurants are all conducted with individuality and creativity that attract Whidbey Island residents as well as visitors. With a dozen sources of great food to consider, you'll find something to meet your tastes. Professional, retired and talented amateur musicians (and visiting performers) contribute to the lively
concert series
throughout the year. You might find them at the band shell in Coupeville's Town Park, singing in the streets or adding auditory dimension to an
art show
at the Coupeville Recreation Hall. Coupeville is only 10 miles from
Luna Shores
.
---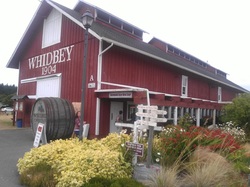 Greenbank Farm
is a community-founded nonprofit organization which manages 151 acres of publicly owned space and a historic farm, located at the center of Whidbey Island. Among other things, they are they only wine shop that carries all of the local Whidbey made wines. And you must try the wonderful Whidbey Port, a perfect after dinner dessert. The town of Greenbank is a special place for us because we first met in Greenbank on Whidbey Island. Greenbank Farm is 20 miles from
Luna Shores
.
---
Meerkerk Gardens
is a not-for-profit garden open to the public. It encompasses ten acres of display and educational gardens enveloped by forty-three acres of woodland preserve with 4+ miles of nature trails. Meerkerk Gardens is 23 miles from
Luna Shores
.
---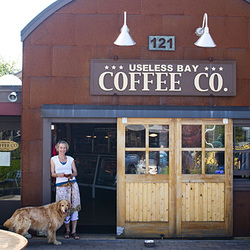 The City of Langley
is a seaside village where you can experience everything from blowing glass to talking with coffee roasters, artists and winemakers. Enjoy its chefs' creations using ingredients grown right on South Whidbey or from the Salish Sea, just below the bluff. Langley offers a tranquil getaway with its expansive views of the Cascades and Saratoga Passage. Take in world-class theatre, festivals, concerts and art openings second-to-none. Hike, bike, or run our forests and shop its collection of boutiques. Langley is 35 miles from
Luna Shores
.
---
---
Places to Eat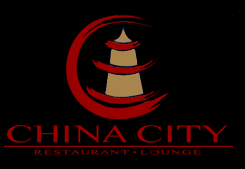 China City
has some of the most amazing and fresh Chinese food we've ever had. If you're lucky enough to catch the weekly lunch special, your wallet and your tummy will be happy. Even if you're ordering a full dinner for the whole family, you'll be amazed at the quality and flavor of the food. Just 4.7 miles from
Luna Shores
.
---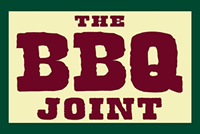 There is no better beef brisket than the Texas Beef Brisket at
The BBQ Joint
. The extremely casual restaurant is a perfect place for the whole family to eat, or you can take-out your order and bring it back with you. Just make sure you get lots of napkins! The BBQ Joint is just 4.4 miles from
Luna Shores
.
---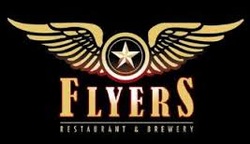 If you're looking for a local brewery with their own craft brews, check out
Flyers Restaurant and Brewery
. They have 12 beers on tap, including our favorite - the Afterburner I.P.A. This pub-style restaurant offers burgers, steaks and other pub fare, and it's family friendly. Happy hour runs from 2pm to 6pm daily. Doors open at 11am daily. Flyers is only 4.3 miles from
Luna Shores
.
---